If you're a coffee fanatic like me, you're sure to be salivating merely thinking about the quality of espresso you'll be able to get your hands on during your holiday to Rome. Packed with gorgeous cafes, fragrant beans and talented barista, you'll be spoilt for choice when it comes to your favourite drink, but there are some experiences your taste buds shouldn't miss out on and some Italian customs it's worth bearing in mind.
Quality Coffee
Honestly, the beans you can buy in Italy are almost enough to convince me to look for some cheap flights to Rome all on their own, but it's the expensive, traditional espresso machines that really make the difference. You can mainly taste this distinction in the espresso, a short, strong coffee that is thick, creamy and never bitter like it can sometimes be elswhere.
Ordering your drink
When you order a coffee in Rome, unless you specifically ask for something else, you'll get an espresso. If you need a double shot, ask for a caffé doppio but if you'd like a longer drink without quite as much of a caffeine hit, go for a caffé lungo. If you prefer a milky coffee, a cappuccino is divine. For Italians, this is a morning coffee and shouldn't be drunk in the afternoon or after a meal, but if you want a cappuccino at any other time, don't let that stop you.
Another favourite with tourists is the caffé latte, but if you'd like to branch out, try the marocchino, which is an espresso with foamed milk and a sprinkling of cacao. For a sweet, iced treat, try out the granita di caffé, which is often served as a dessert option and easy to find in Rome.
Historical coffee shops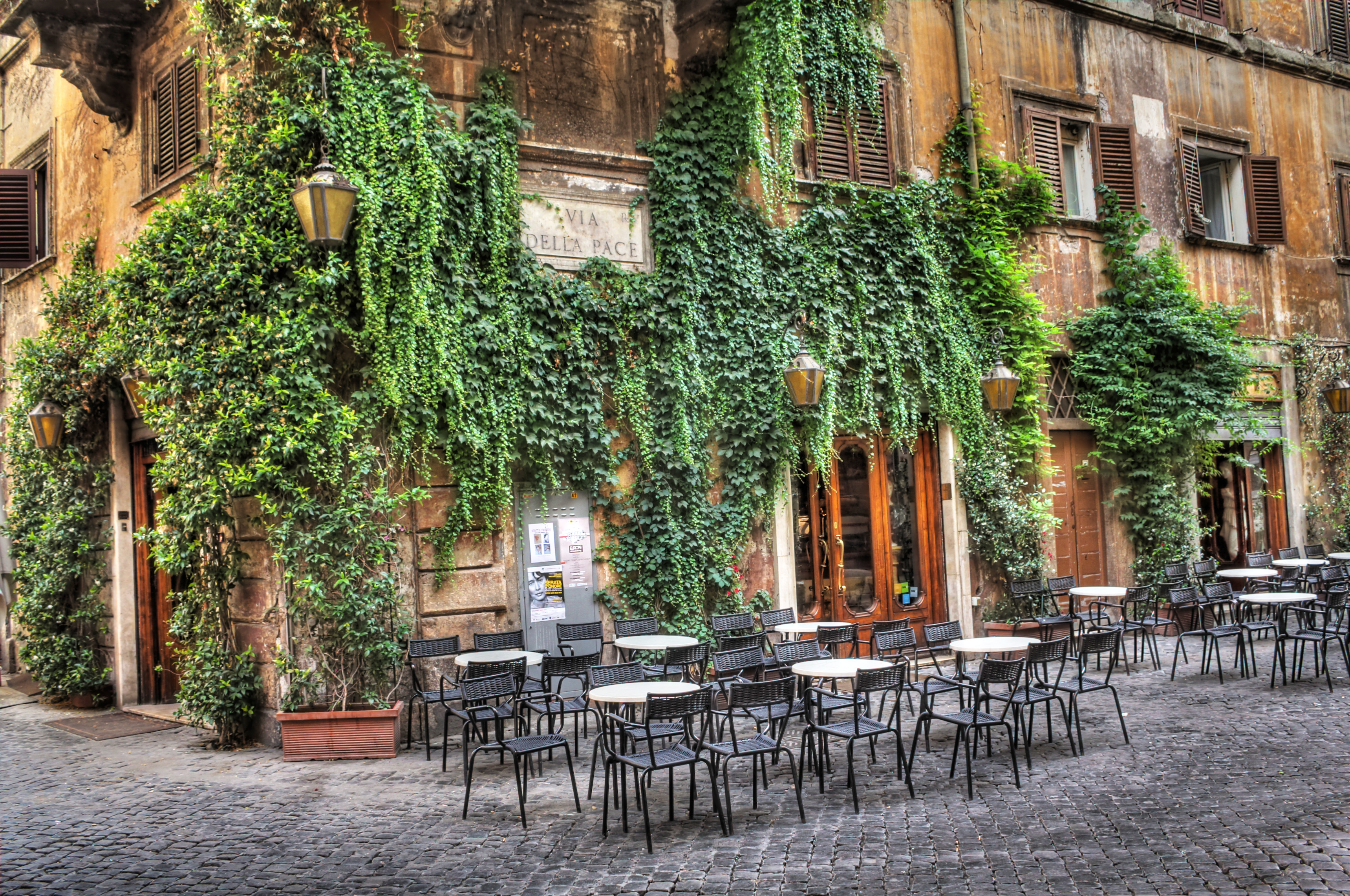 If you'd like a dose of history to go with your coffee, there are a few places you need to add to your itinerary. Caffe Greco was founded all the way back in 1760 and has served great minds such as Stendhal, Wagner, Gogol and Goeth over the years. By Piazza Navona, you'll find Caffe della Pacce which opened its doors in 1860 and has a beautiful terrace to enjoy while sampling its many blends.
Sant'Eustachio Il Caffe, established in 1938, in the centre of Rome is a must for those who like their coffee fresh and kicking and another stop you have to include in your quest for amazing coffee has to be the Tazza d'Oro, acclaimed for its roasting, and these two cafes are just steps from the Pantheon so you'll have to sample both.
My biggest piece of advice for coffee lovers booking cheap flights is to leave some space in your baggage allowance, you're bound to end up with bags of beans and cute espresso cups to take home with you.
If you are lucky enough to be going on a Venice holiday, then it is a good idea to be aware of what temperature you are likely to experience and also what the general weather conditions are likely to be.
January and February
It used to be the case when the canals would freeze over but nowadays although this seems to be a thing of the past, the quantity of water and the freezing winds means that Venice feels cold and damper than the Italian mainland.
January : degrees centigrade maximum = 6 minimum = -1 monthly rainfall = 58mm
February : degrees centigrade maximum = 8 minimum = 1 monthly rainfall = 54mm
March and April
Spring in Venice can bring temperatures of around 20C. However, beware as these months can be rainy and the low-lying areas of the city can become flooded.
March : degrees centigrade maximum = 12 minimum = 4 monthly rainfall = 57mm
April : degrees centigrade maximum = 16 minimum = 8 monthly rainfall = 64mm
May and June
Temperatures during early summer can range from 15C – 20C and attracts been 8 – 9 hours of sunshine each day and can be the best time to visit Venice.
May : degrees centigrade maximum = 22 minimum = 12 monthly rainfall = 69mm
June : degrees centigrade maximum = 25 minimum = 16 monthly rainfall = 76mm
July and August
This is the peak season and can mean high temperatures.
July : degrees centigrade maximum = 27 minimum = 18 monthly rainfall = 63mm
August : degrees centigrade maximum = 27 minimum = 17 monthly rainfall = 83mm
September and October
These month can be a very pleasant time to visit Venice as although temperatures can be around 20C during the day, they can drop to about 10C in the evening.
September : degrees centigrade maximum = 24 minimum = 14 monthly rainfall = 66mm
October : degrees centigrade maximum = 18 minimum = 11 monthly rainfall = 69mm
November and December
Very unpredictable weather during these months and a chilly wind hits Venice. November can be the wettest month on the year but strangely, December can be one of the driest.
November : degrees centigrade maximum = 11 minimum = 4 monthly rainfall = 87mm
December : degrees centigrade maximum = 7 minimum = 1 monthly rainfall = 54mm
Before heading off to Milan, it is always useful to be armed with some facts and figures which will make your stay more enjoyable.
Head for the Brera Art Gallery [Pinacotgeca di Brera] located in Via Brera and before you go in, just take a look in the cobbled courtyard just outside. Here you will see a bronze statue of Napoleon unlike any other you are likely to see. Why? It is of a nude Napoleon being depicted as a young god after he conquered Milan.
Did you know? The English word "milliner" is derived from the city's name. The Milanese from the 16th century onwards have been Europe's top makers of ribbon, hats and gloves and today you will be able to buy a wide range of hats from panamas to the more fashionable hats for ladies.
The metro system in Milan is very easy to follow. There are just 3 lines – Line 1 is red, Line 2 is green and Line 3 is yellow [the blue line is the high speed line, but you can forget about this one]. You can buy cheap tickets from newsstands and are valid for 75 minutes and can be used throughout the metro system and you can reach the majority of the main sites.
If you are interested in the performing arts then a visit to the stage at La Scala Opera House is a must. This is the largest in the world measuring in at 1200 square meters. First opened in 1778 the stage has been home to the majority of the world's famous conductors and opera singers.
Children are made very welcome in this city, so don't be afraid to take your youngsters on a city break to Milan. You will, more often than not, find that restaurants will make a special fuss of children and will prepare special size portions.
To escape the hustle and bustle, you may like to spend time in a park. Well, you have 2 to choose from. Parco Sempione and Giardini Pubblica. Both parks are suitable for children. If you are particularly interested in watersports then head for Idropark Fila located close to Linate Airport where you will be able to swim, water-ski, row and during the winter months you will be able to ice skate.
So, these are just a few things which will make your Milan city break a more enjoyable holiday.
There are many different types of last minute birthday gifts for dad that you can get, but it is important that you take the time to find one that is truly unique and special. Take the time to look through this list of unique birthday gift ideas so that you can choose the right present to get your father on his special day.
Streaming TV/Movie Subscription
One great last minute dad birthday gift is a subscription to a streaming TV/movie service like Netflix or Hulu. If your dad loves to watch movies and television shows, this gift is definitely one that he will appreciate it. This is also a fairly inexpensive gift idea and it is the kind that keeps on giving.
Gift of the Month Clubs
There are lots of different gift of the month clubs that you can buy your dad a subscription to. Whether it is beer, coffee, or even hot sauce, you will definitely want to check out some of these options. This is one of the best last minute birthday ideas for dad and he will be able to keep enjoying it each month when new gifts arrive at his doorstep.
Minute of Life Video Online
On minuteoflife.com you will be able to record a video of yourself saying happy birthday to your dad. Your video will play once your minutes has come up and it is the perfect way of wishing him a happy birthday if you are too far away to see him in person.
Swiss Army Knife

A multi-purpose tool like a Swiss army knife or a Leatherman can be a great gift because it will serve so many different practical purposes. Your dad will definitely find that this gift will come in handy quite often.
LED Screwdriver
An LED screwdriver will allow your dad to do his work in the dark when he needs to. Almost all fathers appreciate tools for gifts, as this one is definitely both unique and practical.
Beer Making Kit
A kit that will allow your dad to make his own beer is a great idea for a birthday present, especially if he likes getting creative when it comes to brewing his own.
Amazon Prime Subscription
An Amazon Prime subscription can definitely be a great gift because it will allow your dad to get free shipping on many of his orders off Amazon's website as well as TV and movie streaming.
BBQ Class
If your dad has a passion for BBQ, it might be a good idea to set him up with a local class that will teach him more about this particular culinary art.
A day on the Green
If your dad loves to golf, pay for a round for you and him so you can get out on the green and do some bonding. Any father who loves golf will definitely appreciate this gift.
Kindle Cover
Those who have a dad who uses a kindle will find that buying him a protective cover for his can be a great last minute gift that will protect one of his favorite possessions.
Seat Massager
If you have a have a dad with a bad back, a seat massager that he can use at home or even in the car can be a great gift.
Bonsai Tree
A bonsai tree is a great little gift that will give your dad something to do. These trees require regular maintenance and trimming and can be very beautiful as well.
BBQ Tool Set
A BQQ set is perfect for all of those dads who like to cook out in the back yard and need some great tools to do it with.
Personalized Whiskey Barrel
For dads who like to make and age their own whiskey, one of these barrels can be the perfect gift. Personalizing the barrel with your dad's name will earn you some extra points for sure.
Phone Case
A new case for your dad's phone is something practical that he will be able to get use out of and there are a lot of different ones to choose from.
16. A wristwatch
Sounds like nothing special, huh? Yeah, you're right, wristwatch is one of the most common gifts for men in any occasions. But what matters here is which model you choose for your dad? There're thousands of watches out there with so many styles to choose from. Buy your dad a solid watch with good-looking or even unique design. If his taste runs into rugged watches, military-style may be a good choice, or if he often go diving or involves in underwater activities, a waterproof or scuba diving watch is ideal!
17. A beautiful auto watch winder
If you dad already owns a good – looking watch, especially a luxury automatic watch. Chances are that he is in need of a beautiful watch winder now. Wood or leather, square or orbicular, handmade or not…Do a little research and you will easily find a beautiful watch winder that fits in well with your dad's watch. Happy shopping!
×